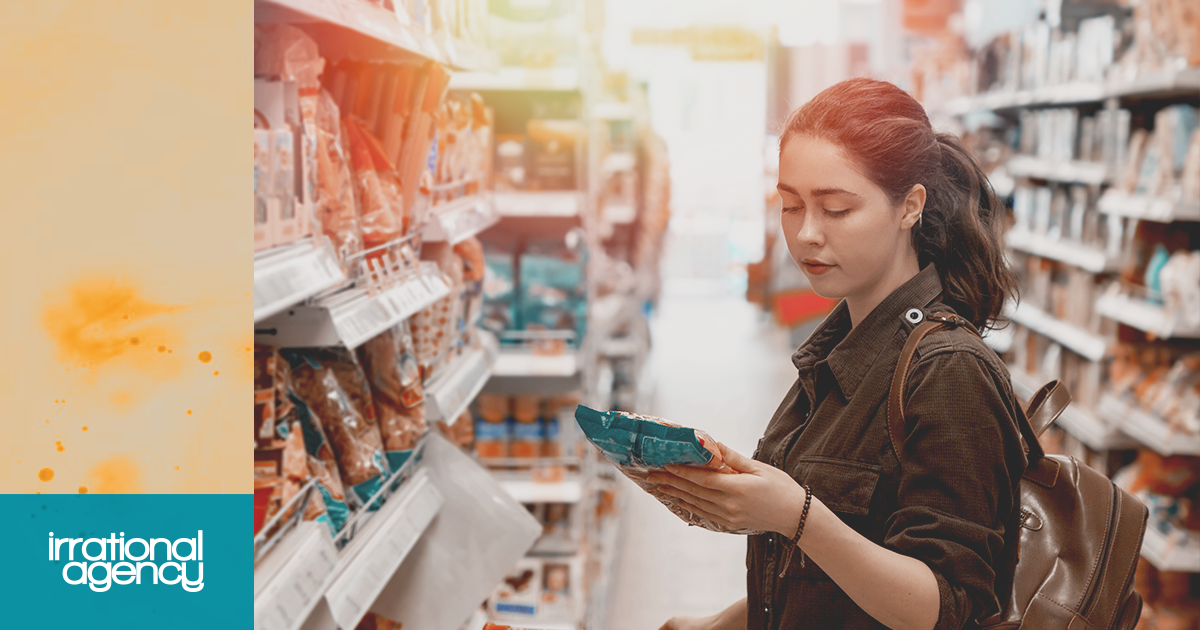 Why Leading Brands Rely on Irrational Agency Trend Reports
The world's biggest snack & beverage brands know it.
National and international retail chains know it.
Global tech businesses know it.
We all know it: consumer behavior is going to change. But do we all know how consumer behavior will change?
Some huge trends are rolling down the highway. Sustainability and carbon reduction. Changing conceptions of physical and mental wellbeing. Inflation and value for money. Evolving gender identities. Views on race and justice. Maybe even the metaverse. It's clear that these trends will have a growing impact on consumer decision-making. But where can you get clear answers on just what that impact is going to be?

New trends are hard for consumers to talk about. They haven't yet formed the language they'll use to discuss it. If their behavior is yet to change (or even if they have started to make some changes), they probably aren't fully aware of it yet, and they certainly don't know what the endpoint will be. They are torn between the changes that they think are expected of them and their distrust of temporary fads. Most people are still figuring out just where they stand on some of these issues.

Brands need to know in advance where these trends will take people. Investment in new product development must be planned years ahead. Marketing campaigns often require a 12-month plan to be agreed upon between retailers, media, and manufacturers. Brand managers want to understand which sustainability messages consumers will want to hear if energy prices fall in 2023, or what kind of products they will regard as healthy by the summer of 2024.

But simply asking questions is not enough, when consumers don't know the answers. Irrational Agency has created a series of trend reports that draw on a different part of the consumer's mind.

Even though consumers can't predict their future behavior in detail, they are starting to form non-conscious narratives about all the trends that surround them in society. Half-built beliefs and feelings are swirling around everybody's unconscious mind. It is those building blocks that will start to form the opinions and actions that ultimately make up consumer behavior in the coming years. Brands have an opportunity not only to discover what those narratives are but to influence the narrative as it becomes solid in the coming years.

The Hidden Stories reports uncover these narratives, by listening to consumer stories and using implicit research tools. Brands rely on these trend reports to dig into the nonconscious feelings and beliefs that contribute to attitudes on sustainability, health, and other trends.
A major snack manufacturer used our Health & Wellbeing Trend Report to understand the trade-offs between taste and health, and how to hit the sweet spot.
A grocery retailer relied on the SustainabilityTrend Report to help guide the development of their own-brand products, labeling on-pack and on shelf, and the tone of their advertising. Our Health & Wellbeing Trend Report then identified a major new opportunity for their product development team.
A global tech brand learned about how customers want their smartphone hardware to become more sustainable using our SustainabilityTrend Report.
The Hidden Stories reports get beyond the half-truths and incomplete responses that respondents typically give to traditional surveys. They allow brands to hear consumer stories and identify the unconscious signals that show through. They turn these signals into distinct consumer personas, clear narratives, and concrete actionable recommendations. Brands who subscribe to the trend reports get the first insights into where these trends are taking their industry.

And it's not just the stories about consumers – it's the message about the brand itself.

National and global brands play their own part in consumers' attitudes to trends. For example, do consumers regard Coke or Pepsi as a more sustainable brand? Is Cadbury or Hershey's seen as a healthier (or less unhealthy!) option?

If you ask this question directly, you get one answer. But if you listen to consumers' stories and unconscious associations with these brands, a different picture emerges. The explicit ratings are often misleading. The true picture that emerges from nonconscious measurement is different.

This example shows how sustainable people think the UK's top ten food brands are – consciously and non-consciously: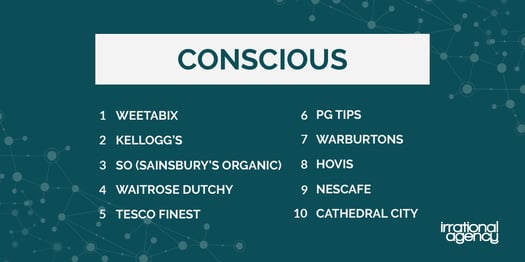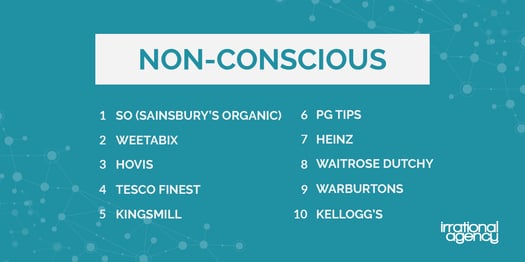 Kellogg's performs well on conventional tracking against the sustainability attribute but has work to do on its non-conscious rating. Hovis, on the other hand, outperforms in the non-conscious stakes: the brand has successfully created stories that elevate its perception beyond the conscious level.

Brand trackers have been giving only half the answer – the conscious half. Tapping into the hidden stories completes the picture.


In total, the Hidden Stories Trend Reports give brands:
Advance warning of what's happening inside the consumer's brain
Actionable ideas for developing product and marketing strategy
The deeper truths that brand trackers don't have access to
Curious to see what you've been missing out on?
Related Posts
We are very proud to announce that Irrational Agency features in the GreenBook Research Industry...