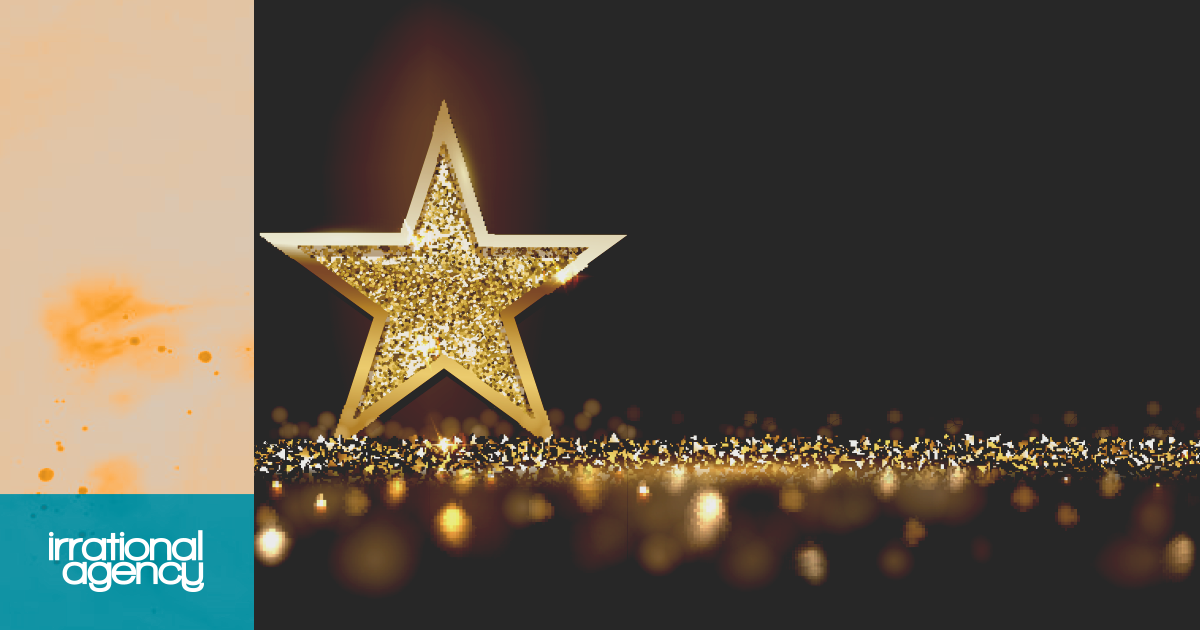 Gamesys Partners with Irrational Agency to Win 2021 MRS Award for New Consumer Insights
Recognized for their profound contributions and research learnings, Irrational Agency together with their key client Gamesys was nominated for and won this year's MRS Award category for New Consumer Insights! Celebrating excellence in research-led innovation across various industry sectors, the 2021 research awards recognized our combined efforts with Gamesys in recent safer gambling studies and campaigns as providing crucial qualitative insights into consumer behavior and new technologies in online gaming and entertainment industries.
The business world is transforming and the traditional 'taboo' and heavily regulated industry of online gaming is in need of an updated, digital user-centric model. In an industry with such high risks for being detrimental to users' physical, social, financial, and all-around well-being, it is now necessary that online gaming brands offer support, transparency, and even protection to users to remain competitive and existent as a form of entertainment. Enter: Responsible Gaming initiatives.
Attempting to instill new regulations, research, and processes to encourage safer gaming protocols that reduce gambling affiliated user issues, Gamesys worked with our expert team to take part in the redesign and transformation of the gambling and gaming industry towards a future of responsible and user-centric gaming (RG) experience - but first, they needed to take a step back and explore where there was room to better their own responsible gaming practices.
Leading Impact and Insights
Leading a multi-brand RG campaign, the findings helped Gamesys create strategies grounded in real consumer needs and explore research that identified all parts of the player/user journey to discover pain points and successes. Utilizing behavioral science and psychotherapy techniques, the brands implemented multi-staged research approaches, combinations of decision-making frameworks, qualitative research, among many other adapted practices to research how they can encourage a healthier, safer, and more enjoyable gaming experience.
What did Irrational Agency and Gamesys discover? The problem with the current state of affairs in the gambling industry is that while there is a growing abundance of new player resources and support tools, preventative measures being taken to protect people who are at risk but do not know it yet would be much more effective in increasing player safety.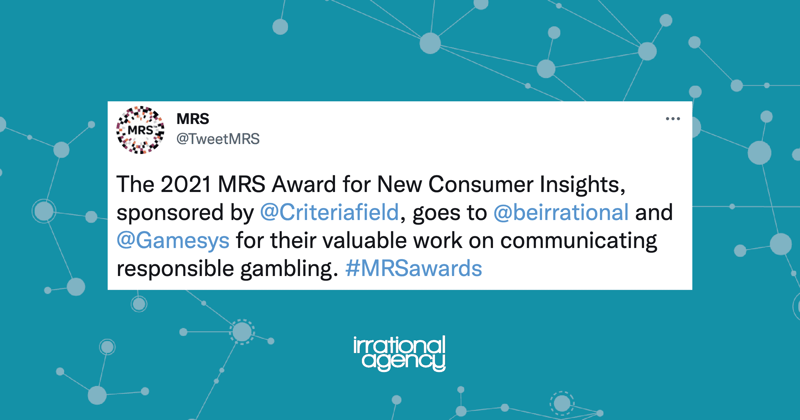 Methodology
Looking at if it is possible to change consumer behavior in gaming and how consumers don't always do as they say - Gamesys called on Irrational Agency to get to the bottom of player subconscious behavior, risk-taking and consumer decision making, and key heuristics or biases. However, in order to unearth the consumer qualitative insights needed, Irrational Agency had to work with real humans towards human solutions. Conducting thorough, personable research at every stage of the player journey, the brands studied research participants in varying settings with different techniques to evaluate human unconscious behaviors.
Motivated to delve deeper into new consumer behavior, Irrational Agency and Gamesys pinpointed several barriers standing between responsible gaming and players: focus, tonality, and community. Further, the Responsible Gaming campaign revealed how game voice tone and strategy can influence player risk behavior and consumer decision-making/rationalization process and consisted of insights that were quickly adapted into the brand's communications strategy.
Further Recognition
The MRS New Consumer Insights Awards together with Irrational Agency wasn't the safer gaming campaign's only accolade - Gamesys was also recently awarded the 2021 EGR Marketing and Innovations Award for their Socially Responsible Marketing Campaign that was based on learnings by Irrational Agency. Even more, the project findings on new consumer behavior were referenced and used as a source by UK nationwide charitable organization GambleAware that is working towards zero gambling-related harm.
The project's success was also a brand win as 59% of surveyed Gamesys players responded that they felt the company was more responsible than their competitors the previous year.
After being awarded by a globally recognized research association, The Market Research Society (MRS), we are excited to continue supporting current and future clients in the exploration of behavioral market research and the deep dive into consumers' minds - uncovering the power of the stories they tell along with unconscious narratives and behaviors.
Related Posts
Irrational Agency is once again featured in the GRIT list of the research industry's top...